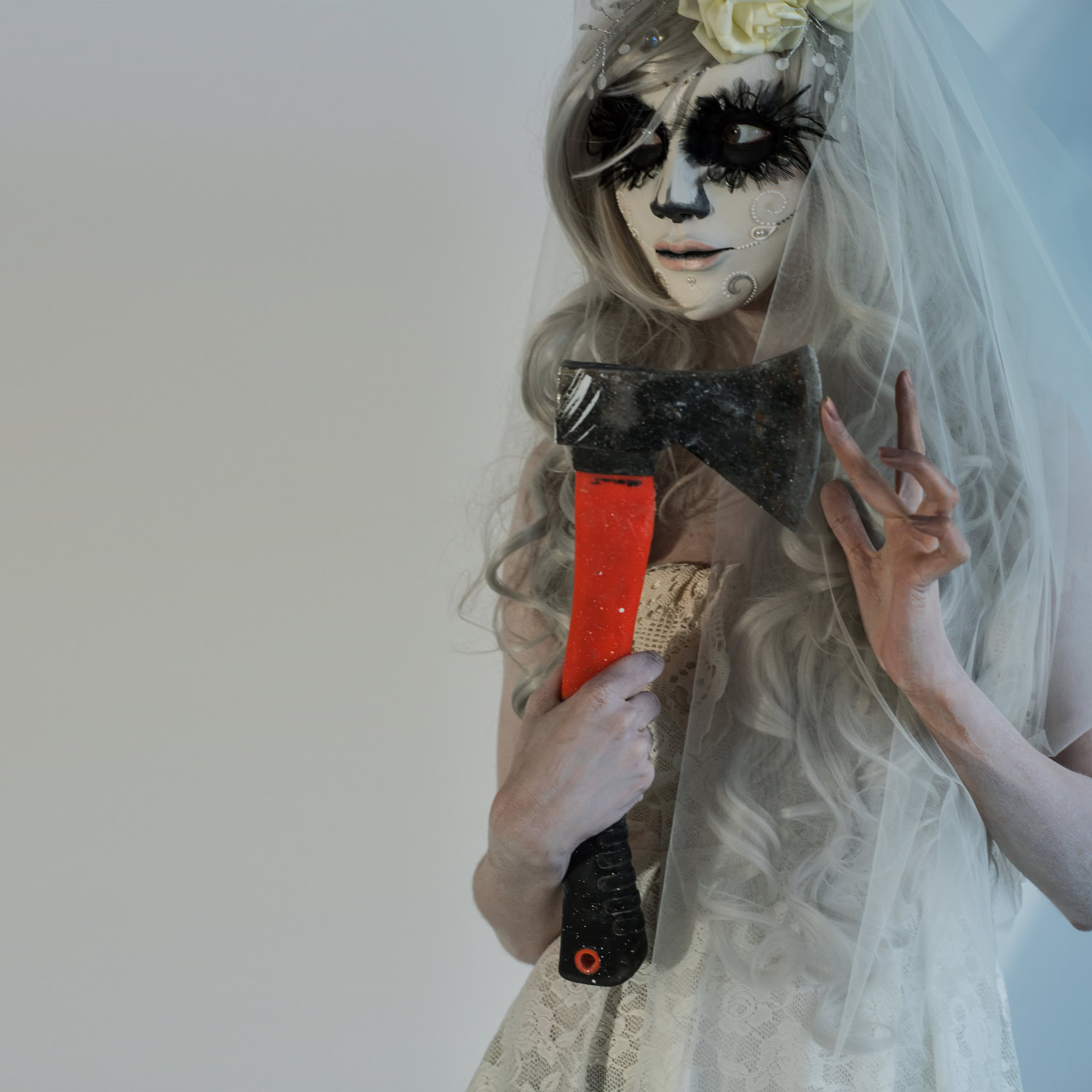 Welcome to our new CandyGoth website! Our first post is about introducing you to a cosmetic company concept that you have never seen before. We will also use this post to announce our Dead Bride Contest. Before this article is over you will understand why I chose the Dead Bride theme for the launch of CandyGoth.
The Dream & Detour
My dream of having a job in the cosmetics industry started at the age of 17, I was a goth and in the top 10 of my graduating class. My mother had big dreams about the future she wanted me to have in the corporate world. So, when I told my mother that I wanted to become a makeup artist and instead of going to college I wanted to attend beauty school. She basically said hell no and she refused to pay for it…my heart was broken and at that time I didn't have the fighting spirit I have today.
So, I caved in and went to college to become something my mother thought was respectable and perfect for me. One thing that would remain a constant in my life was paying over and over for my failure to chart my own path through life. I do believe that things happen for a reason and the reason I choose to refer to this time in my life as a detour and not a mistake. As I came out of it a well trained salesperson with a background in marketing and a web design.
I would take this knowledge and launch several companies, I owned a marketing firm that built websites and managed marketing campaigns for candidates. One day I would stumble upon a client who asked me to work for him to bring his recruiting company into the new age with marketing. In exchange, he would teach me how to recruit, I would end up becoming his principle recruiter and second in command, until we parted ways. From him I went on to the launch, Lysios Staffing my recruiting firm that I owned until I sold it in early 2020.
Goddess Cosmetics
The story I told you above taught me many skills in life and how to lead, launch new businesses and much more. But it was not the dream I had years ago at the age of 17. The first time I tried my had at making the dream a reality was in 2014. I launched a cosmetics company called Goddess Cosmetics. It was a dream come true for me, but I was a bit out of my league back then. Of all the companies I had started, none of them dealt with consumers, they were business to business companies. I walked away from my first cosmetics company, after building it up to the point to where I had affiliates selling it like Avon. I failed to get certain legal trademarks at launch, had I done so in the beginning. I would have known that someone owned the rights to Goddess and was in the same industry as I was.
The taking down of Goddess Cosmetics was one of the deepest cuts I have ever taken in my life. I promised I would bring my cosmetics company back again and walked away from it pissed the f@ck off! A few years passed and while people were thinking about their New Year's resolutions for the 2019, I decided it was time to relaunch my dream.
This time it would be the company I always wanted it to be, there was something super special about me. The girl that dreamed of becoming a makeup artist, then eventually owning my own makeup company was a goth. I had been one since I was 16 years old and grew into a woman that still lived the life of a goth. I decided my new company would be for the alternatives of the world including me. I came up with CandyGoth as the name of that company because I am a Hollywood Glamour Goth who loves pink and black.
Due to my marketing background, I knew the perks of creating social media pages that are not the main business page. Official brand pages that sales products have industry limitations on what can be posted, said and the acceptable marketing tactics to be used..
Divine Goth
I called this other brand Divine Goth, created a few social media profiles and built a website for it. The content Divine Goth would offer came to be a goth wiki, interviews, awesome goth based pictures, a goth directory, a festival directory and a directory of musicians. The Divine Goth name still does what I meant for it to do, it is the hub site for the information posted on our other sites. Nothing is sold on the site and never will be, it will always be the site that sends you to the content we post.
You could conclude by now that I created the Divine Goth Community for CandyGoth…and you would be absolutely correct! On 7/10/2020 it all came full circle and my dream became a reality. I used every skill I learned during my detour in life…to make this happen.
CandyGoth
Welcome to my dream! I still have over a 100 more products to get into the system, but once I am done. I promise you that we will start adding new entries in all of our directories once a week.
I chose the Dead Bride for my first contest and makeup look because of the years I went through life half dead. A walking, living dead goth doll trying to succeed in a corporate world, I did not want to be a part of. I worked with people for 10 years who did not know that I was actually a goth. I learned to separate my private life with my work life. When I left work I went home got dressed for the goth night life!
I decided to pick up that ax and cut through the BS and launch the venture that means more to me than any company I have ever owned. I consider myself a bride as this company is hard work and I have given it my heart and soul! Sounds like marriage to me! Lol
The Dead Bride Contest
Includes:
24K Goth Glitter Shadow Palette
Cream Liner – in black
Lashes – in Nefertiti
Hi Def Pigments – in Soot ( a shimmery black)
Liquid Lipstick (Pink Collection) – in All Natural ( a nude color)
Spektor Baal – Ancient Serpents Album
When I originally decided to launch CandyGoth I must admit it was only to sell my brand cosmetics. But after a few months of having the Divine Goth site and page, it drew a lot of male fans! I remember thinking how awesome it was that I actually named my company CandyGoth not CandyGoth Cosmetics.
Because of the wonderful male followers I have, I realized that I would need to sell more than cosmetics. The kit I present below is my way of saying thank you guys for helping me to expand my vision. I chose to call the kit Dead Norse because as I have joked on my Divine Goth page. I figured only a Dead Norseman could handle an ax wielding Dead Gothic Bride!
The Dead Norse Contest
Kit Includes:
A Norse Bracelet
Gel Eyeliner Pencil – in black
Powerwolf – Best of the Blessed Album
Goth T-shirt – We will give you a chose of 4 different styles. (the winner will pick one and the size)
How To Submit An Entry To Win
Standard Entry:
Go to the contest page and fill out the form.
We will need your name, email address and kit you want to submit an entry to.
We will send you an email reply in 24-48 hours to confirm that you have been entered.
Social Entry
I wanted to give those who wanted to tag a friend, repost or create story to spread the word about our contest. To earn an additional entry to win the kit of your choice.
What I am saying is that a standard entry simply requires that you fill out the form. By providing the basic information we need to contact you should you win. If you would like to get an additional entry to win the same kit you can do so by sharing or tagging on social media.
We will verify that you did the social share or tag and message you back in 24-48 confirming your two entries.